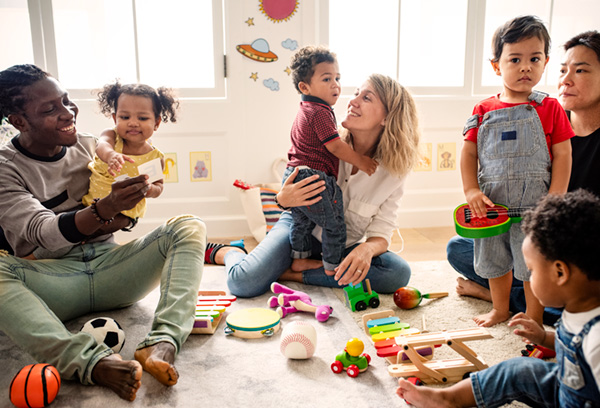 Parent / Child Activities
Connecting with your child, while you learn
Parent/Child Activity Groups are an excellent way for parents to spend quality time with their child, promote healthy development and growth, and get answers for their parenting questions. The American Academy of Pediatrics says, "Play is essential to development because it contributes to the cognitive, physical, social, and emotional well-being of children and youth. Play also offers an ideal opportunity for parents to engage fully with their children." Visit Current Classes to sign-up and filter for "Parent/Child Activity Groups."
Ask the Lactation Consultant
Bring your baby for "hands-on" help to ensure that breastfeeding is successful, comfortable, and pleasurable. Learn strategies to help you maximize your milk supply, respond to your baby's hunger cues, and help your baby latch on effectively.
Baby & Me (Pre-crawlers)
Explore child development in the pre-crawling stage of life. We will use song, rhythm, rhyme & movement to develop eye tracking, build early language skills, and learn predictability and body awareness.
Drop-in Play (Birth – 5 years)
Spend time in our fun, stimulating playrooms ideal for children under 5 years old. Children play while parents connect and talk to our early childhood experts.
Music Together (Birth – 5 years)
Rediscover the pleasure and educational value of informal music experiences. Join weekly, fun-filled 45-minute workshops and experience the joy of family music-making!
Wonderful Ones (12 – 24 months)
6-week program to encourage socialization skills, emotional development, and cognitive growth while playing in our stimulating environment. Parents receive support on topics including sleep, feeding and nutrition, social development, and positive discipline.
Terrific Toddlers & Twos (18 – 36 months)
6-week program to prepare parents and children for preschool. While children learn to gently separate and play in a preschool-like setting, parents discuss topics including limit setting, positive discipline, socialization, and sleep concerns.
2nd & 3rd Time Moms
Discuss the joys and challenges of parenting more than one child in this 6-week program, and spend one-on-one time with your new little one. Learn strategies for managing changing family dynamics, sibling issues like cooperation and sharing, developmental milestones for babies and toddlers, and finding time for yourself.
WE HELP KIDS AND FAMILIES FLOURISH