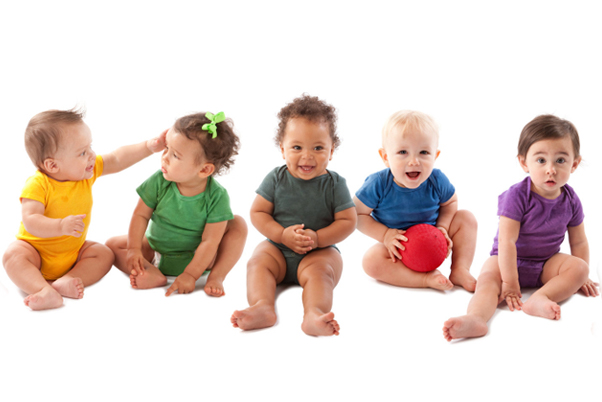 Jewish Baby Network
A welcoming community for families to connect with each other and bring the beauty of Judaism into family life.
For new parents who are getting started on their journey, JFCS' Jewish Baby Network is here to welcome you into the larger Jewish community. We connect new families to each other, to parenting resources and support, and to the wisdom of Jewish parenting.
While pregnancy, birth, and babies can bring moments of awe and celebration, there are also times when new parents feel anxious, exhausted, and alone. As a program of The Center for Children and Youth, Jewish Baby Network offers guidance and a nurturing community throughout pregnancy, postpartum, the first years, and beyond.
Jewish Baby Network warmly welcomes parents and families of all faiths, ethnicities, and abilities. Connect with us in San Francisco, Marin, the East Bay, and on the Peninsula to meet other families with little ones and build long-lasting friendships. Learn more about our events and resources.
"The first Jewish Baby Network event that I attended, I immediately clicked with other moms and babies, and they have become our 'family' in our new home. We celebrate Jewish holidays together and it makes such a difference to have friends to share them with."—Sarah, Bay Area mother of two
Please consider making a donation today to help grow and welcome new families into the Jewish community. Donate >
JFCS' Center for Children and Youth is made possible by generous donations, fees, JFCS Named Endowment Funds, and the leadership support of Dr. Kathy Fields-Rayant and Dr. Garry Rayant, Friend Family Foundation, Alex Ingersoll and Martin Tannenbaum, Parasol Foundation, Jay and Rose Phillips Family Foundation of California/Terry and John Levin, Lisa Stone Pritzker Family Foundation, Sandra L. Schnitzer Resilience Fund, Shmunis Youth Internship Fund, Shupin Fund for Youth, and Taube Foundation for Jewish Life & Culture/Dianne and Tad Taube, Harold and Libby Ziff Foundation/Lela and Gerry Sarnat
Significant support for this community-wide initiative is provided by the Koret Foundation.
Jewish Baby Network, a program of JFCS' Center for Children and Youth, is sponsored by the Rodan Family Foundation, the Natan Giving Circle, the Leslie Family Foundation, Congregation Beth Am, Congregation Kol Emeth, Congregation Beth Jacob, PJCC, the Jeff Astor Foundation, Congregation Or Shalom, Congregation Sherith Israel, private donors, and individuals like you!
CONNECT WITH A PARENT COACH TODAY