Are you to new to the Bay Area? Or did you move here two, three, or even five years ago and still feel as if you haven't found your people yet? When I moved here in 2010 with my husband and three-year old, I was struggling to keep a toddler busy, search for housing and find a way to cope with feelings of loneliness and stress. Here are some tips that helped me ease the transition and feel more at home.
Join a Mother's Club: When I realized I would be moving to the Peninsula, a quick online search led me to the largest Mother's Club in the area, the Palo Alto/Menlo Park Mother's Club (PAMP). I joined a few months before I even moved! PAMP has about 2,000 members plus a plethora of events, playgroups, and volunteer opportunities. Best of all, they have an online forum where you can ask important questions about finding doctors, dentists, summer camps, reliable sitters and nannies. I felt so relieved knowing I could pose a general question and receive multiple helpful responses. There are also smaller mothers clubs on the Peninsula like the Burlingame Mothers Club, San Mateo Mothers Club, San Carlos/Belmont Mothers Club, and Foster City Mother's Club, as well as dozens of other mothers clubs throughout the Bay Area that offer more localized resources.
Pro tip: Clubs also offer fun parent-child and child-free activities like a family hike at Filioli or a workout class at the Spin Studio.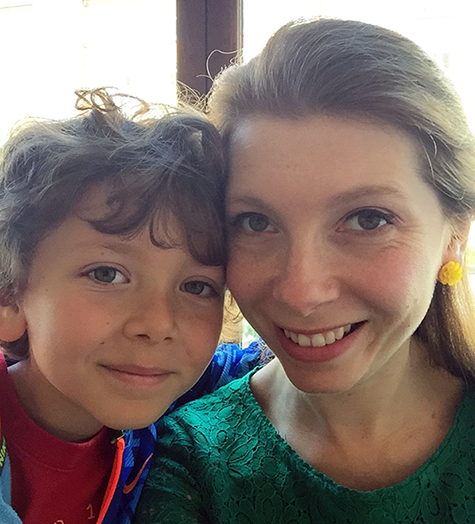 Check out the local library: The children's librarian at the Mountain View Library was warm and welcoming, and shared great ideas for family activities. When I first moved here, it was so nice to see a friendly face! Most local branches of the library have online calendars, such as the Palo Alto Library Event Calendar.
You can find a variety of activities at your local library; everything from Russian story time to pajama story time to movement and music classes. The Mountain View Library even has a monthly ukulele night with ukuleles you can borrow!
Pro tip: Area libraries also offer parent education classes, some of which are taught by Parents Place experts.
Find a family exercise class: Groups like Fit4Mom Midpeninsula and Stroller Strides meet at parks and public gathering spaces all over the Peninsula. They offer drop-in exercise classes for moms and caregivers while your baby is in a stroller. For me, Stroller Strides was a life-changing experience. I am still connected with friends I made in that weekly group and, as an added bonus, I started regularly exercising for the first time in my life! Everyone wins: kids can play outside and have fun, while you exercise and set a good example for your child.
Pro tip: These classes have multiple benefits—one of the best ones is that you get plenty of social time with other moms.
Re-discover your hobbies: What did you love to do before you had kids? I re-discovered Salsa dancing when I found a great, friendly dance club only five minutes from house. On Friday nights, I call a friend and go out dancing for 1-2 hours. The energy boost lasts for the next few days! A girlfriend of mine recently joined an adult soccer league after being away from the sport for 15 years.
Pro tip: If your hobby involves any physical activity, you get to relax and get fit at the same time.
Find a new community: Going back to work is an individual choice. For me, flexibility was important.Finding Parents Place was a perfect fit. I joined a community of people working together to help families, caregivers, and teachers to support babies, children, and families. Check out the wide variety of parent education workshops online at: parentsplace.jfcs.org. As the Parents Place Outreach Coordinator on the Peninsula, I'm here for you! Let me know what would help ease your transition to parenthood.
One of the first classes I took at Parents Place was, "Raising Your Only Child." As an only child myself, this class was so invaluable that I made my husband take it the next time it was offered. If your family is struggling with a particular issue, a Parent Consultation with one of the child development experts on staff is a great way to develop new parenting strategies. Or drop-in to one of the fun and engaging Parent/Child Activity Groups offered here each week.
If you are pregnant or have a newborn on the Peninsula, stop by and introduce yourself to Cherie Tannenbaum, NP, IBCLC, our resident baby expert, lactation consultant and family nurse practitioner. Drop-in to one of the Babies & Beyond groups and find out more about your child's development, lactation issues, sleep, and more.
After five years, I finally stopped saying that I am new to the area. It can take a long time to feel settled and build relationships in a new community. Be patient and when you are ready, reach out to other families and begin to build your parent network. Before you know it, this new place will start to feel like home.
Elina Koretsky is the Community Outreach Coordinator at Parents Place in Palo Alto.